Manfred Tinebor
Белые ночи
The legend 1200 kms long bicycle marathon "Белые ночи" (White nights) was organised by the bicycle club "Velorus-Marathon" with the rules of "Audax Club Parisien". That means, that the 1200 kms distance had to be ridden in a maximum total time of 90 hours.
The brevet took place on 18th-22nd June 2010. Start and destination of the circular route was Vologda, Russia. The route crossed the historical cities Totma, Nikolsk, Manturovo, Kostroma and Yaroslavl.
The starters

Eight daring cyclists wanted to conquer the vastness of Russia by bicycle. The venturesome starters were (from the left to the right):
- Андрей Викторов (André Viktorov), Cherepovets, Russia,
- Павел Сеитов (Pavel Seitov), Arkhangelsk, Russia,
- Алексей Болдырев (Alexey Boldrev), Arkhangelsk, Russia,
- Дмитрий Либуркин (Dimitri Lubirkin), Moscow, Russia,
- Екатерина Костюхина (Yekaterina Kostuhina), St. Petersburg, Russia,
- Ivo Miesen, Maastricht, Netherlands
- Александр Губанов (Alexandr Gubanov), Cherepovets, Russia,
- Manfred Tinebor, Weserbergland, Germany.

Already some kilometers after the start Дмитрий had a traffic accident. He collided with a truck and was delivered to a hospital. Unfortunately, for him the marathon was very fast to an end.
Андрей gave up after 330 kms and broke off the marathon.
Екатерина finished her 600 kms brevet successfully and did not cycle further on 1,200 kms of distance.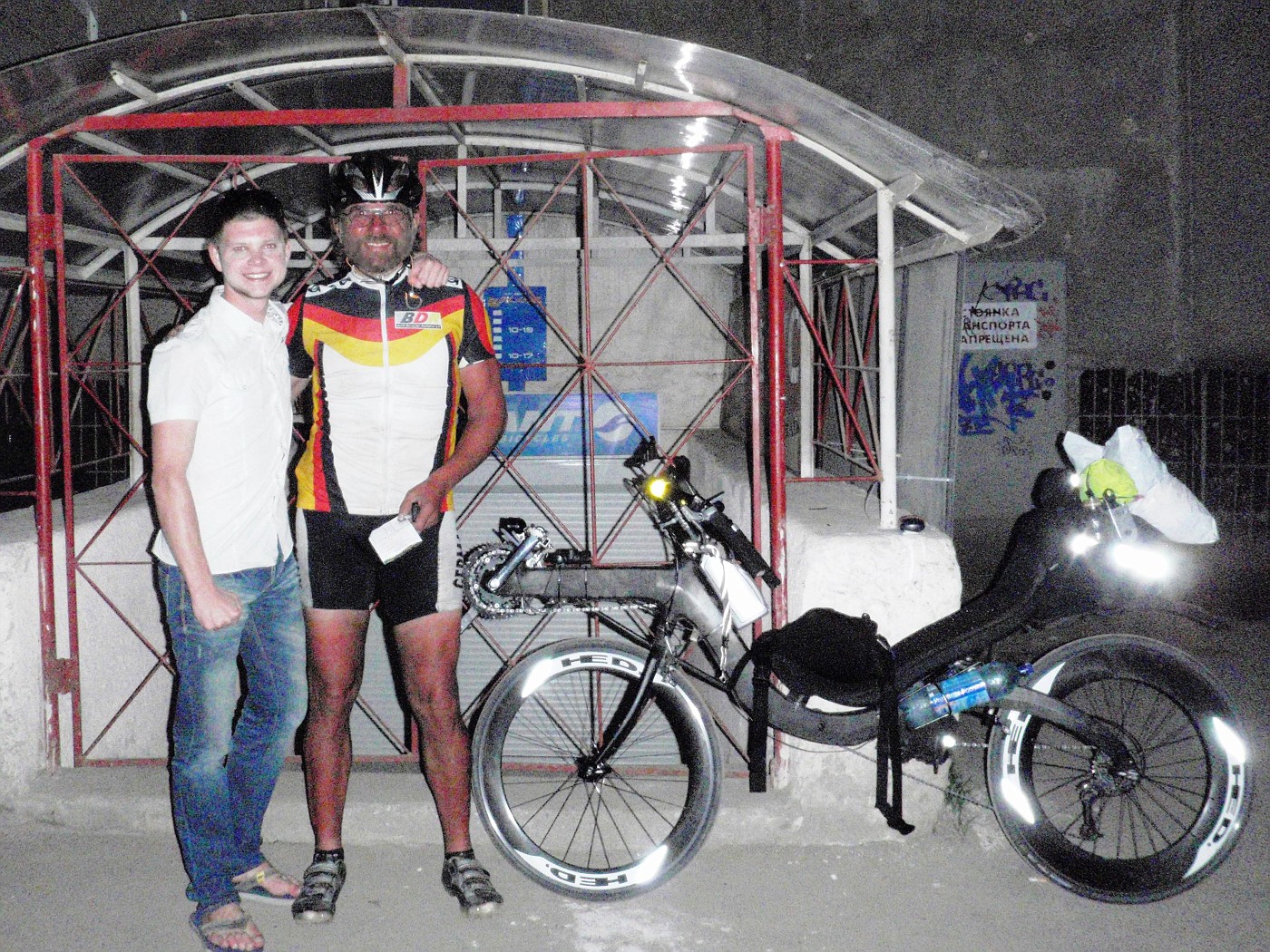 Arriving destination



The partly very bad road conditions gave the main difficulty of the route. Thus Manfred had 9 flat tires caused by punches through the inner tubes.

Another difficulty for Manfred was his low knowledge of the Russian language. Firstly, he could not read the Russian route description: shortly before the start, the route and some control points were changed. Secondly, it was difficult for Manfred to stock up with food and water in the Russian villages.

Manfred had luck in disguise during the bike marathon. In Yaroslavl he was struck by a car. He crashed and shaved the left side of his ass. At the couch the handlebar and the left brake lever were bent. The car driver stopped only briefly, looked at Manfred lying on the ground and then drove on! Luckely Manfred could continue the bike marathon.
So he was happy, that he finished the brevet in spite of the difficulties.


| | | |
| --- | --- | --- |
| Finisher name | Total time | |
| Алексей Болдырев | 78 h 35 min | |
| Александр Губанов | 81 h 15 min | |
| Manfred Tinebor | 86 h 54 min | |
| Павел Сеитов | 88 h 51 min | |
| Ivo Miesen | 89 h 35 min | |
5 participants arrived at the destination and finished the 1,200 kms successfully.


Look at Manfred in a short video-clip


Read more for your smile


Look to the photos of the Russian adventure tour