Manfred Tinebor, 26th June 2011. last change 9th July 2011
Are you ready for adventure?

Paris-Brest-Paris 2011
A distance of 1,200 kms ridden by bicycle is no longer, than to be flown the same distance by airplane :o)
...but riding by bicycle is much, much more exciting!
...and on the way you will get to know one interesting person well: Yourself!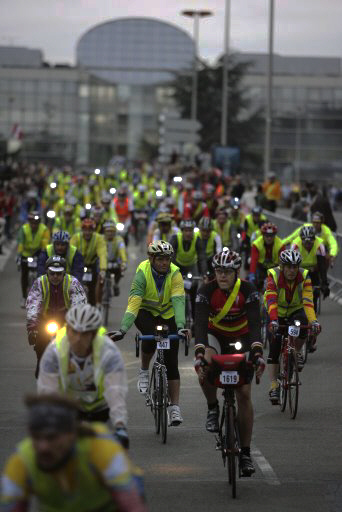 Departure PBP 2007

What is PBP?
Paris-Brest-Paris (PBP) is the most traditional long distance bicycle ride of the world. First time PBP took place as a bicycle-racing in the year 1891!
From PBP the commercial version "Tour de France" has originated.
The non-commercial brevet PBP is organised by Audax Club Parisien (ACP) all 4 years. Aim of PBP is to ride by bicycle the 1,200 kms long distance from Paris through Normandy and Brittany to Brest and back with nearly 10,000 altitude meters in less than 90 hours total time.
Already in the year 2007 I took part in PBP. More than 5300 starters of 40 countries from all five continents made PBP to the biggest international randonneuring event of the world. This year, even more starters and nations are expected.

Which abilities you need?
In the year 2007, PBP was my first 1,200 kms Brevet. I was afraid, whether my body would be able to ride such a long distance. In the meantime I rode two 1,200 kms brevets in Russia und the 1,400 kms brevet "London-Edinburgh-London". This time I know that my trained body is able to ride the long distance!
…but I still have much respect for PBP :-)))

To ride a 1,200 kms brevet, you need, of course, well trained endurance ability. Beside the endurance ability is important, …
a) ...that your digestion is in the habit of work under sporty load conditions. --> Many riders, who must give up, have no energy anymore, caused by digestive problems. During "London-Edinburgh-London" I had problems with chilli beans, that I lunched at a control point in Scotland. My body didn't except the beans. The digestive problem cost time of nearly 8 hours!
b) ...that you are able to handle the lack of sleep. --> There is the danger to leave the street unintended and to fall. Also the potentiality of getting hallucinations exists! If sleeping attacks appear or you start to hallucinate, it is better to lie down in the roadside ditch and to sleep one to two hours, than to fall and to injure yourself!
c) ...that you are mental well prepared to carry pain. --> Be certain, on the long riding distance, you will get pain from several places of your body. Your brain will have to fight against your body!


| | | |
| --- | --- | --- |
| Control points | kms | |
| Villaines-la-Juhel | 221 | |
| Fougères | 310 | |
| Tinténiac | 364 | |
| Loudéac | 449 | |
| Carhaix-Plouguer | 525 | |
| Brest | 618 | |
| Carhaix-Plouguer | 703 | |
| Loudéac | 782 | |
| Tinténiac | 867 | |
| Fougères | 921 | |
| Villaines-la-Juhel | 1009 | |
| Mortagne-au-Perche | 1090 | |
| Dreux | 1165 | |
| Saint-Quentin | 1230 | |
Every ability you need, you can work out! :-)
You will prove, that where there is a will, there is a way! ...to Brest, ...and back to Paris!
Qualifying
To qualify for PBP you must complete a Super Randonneur series (200, 300, 400 and 600 kms) of ACP-sanctioned brevets in 2011. Those brevets are offered in over 35 countries around the world. I finished the complete brevet series in Germany. The 200, 300 and 600 kms brevets I cycled at ARA Niedersachsen and the 400 kms brevet at ARA Weserbergland. Now I am a "Super Randonneur 2011" and officially qualified for PBP. :-)

The start
Like in the year 2007, together with my friend Andreas I will take part in PBP. We will travel to Paris together and we will start the ride on Sunday, 21st of August. The start location is on the west side of Paris in Saint-Quentin-en-Yvelines. From the "Gymnase des Droits de l' Homme" the start will be in waves of about 400 riders. My start time is 17:30 o'clock.

Online rider tracking
At the start each rider will get a tracking chip. In each control, when a rider crosses a mat, the chip is recorded and the data are transferred to a server. If you do not take part yourself in PBP, you can consult my progress on PBP-riders tracking . I am identified by my frame number 6451.

- Interactive route map Paris-Brest-Paris 2011 -

Characteristics of the route
On the way are control points: 13 fixed points and one secret control. At the control points you have to get stamps into your road book. Normally there are catering places, where you can refill your bottles and your empty stomach. At some places will be possibilities to sleep.
Main parts of the route are small country roads with low traffic. Typically Brittany's roads have raw street covers. The raw covers generate a high rolling resistance and causes bike vibrations. In 2007 my stiff neck and my senseless hands and fingers were mainly originated by permanently vibrations. This time I solve the problems by riding a recumbent bike. The last 1,200 kms ride in Russia showed, that on my couch I get no body problems, not even on bad Russian country roads. :-)
On the PBP-route are no high mountains and there are no steep ramps. But Brittany is wavy like a washboard! Constantly it goes up or down. Some of the 30 gears of my couch I will have to switch all the time. :-)

What to do until the start?
My endurance capability and my average power seem to be OK. For riding Brittany's waves, high short time power is advantageous. Therefore in the moment I try to increase my maximum power. I do sprints and climb hills with high gears. Beside I try to prepare mentally.

All along the 1,200 kms of PBP, I will measure the strength of my body and, above all, the strength of my brainpower :-)
Will we meet on the route?


Please watch the Promotion-Video of PBP 2011